This Shattered World (Starbound #2)
Amie Kauffman and Meagan Spooner
Exp. Pub.: December 23, 2014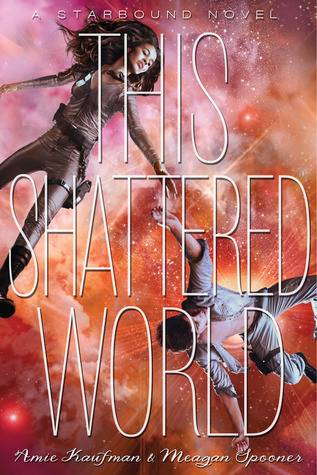 Jubilee Chase and Flynn Cormac should never have met.
Lee is captain of the forces sent to Avon to crush the terraformed planet's rebellious colonists, but she has her own reasons for hating the insurgents.
Rebellion is in Flynn's blood. Terraforming corporations make their fortune by recruiting colonists to make the inhospitable planets livable, with the promise of a better life for their children. But they never fulfilled their promise on Avon, and decades later, Flynn is leading the rebellion.
Desperate for any advantage in a bloody and unrelentingly war, Flynn does the only thing that makes sense when he and Lee cross paths: he returns to base with her as prisoner. But as his fellow rebels prepare to execute this tough-talking girl with nerves of steel, Flynn makes another choice that will change him forever. He and Lee escape the rebel base together, caught between two sides of a senseless war.
This Shattered World follows two more opposites fighting it out thanks to the messed up experiments by LaRoux Industries. Flynn grew up on Avon, where their world was supposed to be terraformed to make them a more contributal planet. But decades later their world is no closer to achieving that than the day they agreed to it. The rebellion has been well underway, with Flynn's sister already dead ten years, who was once their leader. A great majority look to her brother Flynn as the next leader, but a man named McBride has an itchy trigger finger to start attacking the military and break the cease-fire. He has good reason - military personnel has to be constantly changed out every one to two months because they're susceptible to something they refer to as the Fury, where the officer loses control and goes murderous. The military tries to get them off planet in before that can happen by monitoring the signs, but sometimes it happens too fast, and native residents of Avon seem to be the only victims of this curious disease. While McBride believes it's just an excuse to kill their people, Flynn begins to believe in the possibility that something more supernatural is going on. But for the most part, his attention is more focused on a secret base he's sure he saw out east, and also on a high ranking officer named Jubilee, who seems to be immune to this so-called Fury and has been on Avon for a year now. Surely she has the knowledge he seeks.
Desperate for answers and to stop McBride from convincing his own people to attack the better equipped military, he seizes the opportunity to abduct Jubilee off base. But she holds no answers for him, or at least isn't willing to share them. And when his plan to trade her for supplies is rejected, he knows killing her will only unleash the military's wrath, so he goes against his people and allows her to escape. Ready to go after the rebel leader who abducted her, certain events take place that begin to make Jubilee question the things Flynn interrogated her about, and as both their worlds become more deadly, two sworn enemies soon realize working together is their best chance for saving both sides.
This was a good follow-up to
These Broken Stars
, which I absolutely loved. Flynn and Jubilee didn't win my heart as much as their predesecors, but I still adored them by the end. And before you ask, yes, you'll get to see Tarver and Lilac again, who have an intimate knowledge at dealing with the shady side of LaRoux industries, but only for a small percentage of the novel. But if you loved the first novel of the Starbound series, you'll love the second one too.
ARC provided by Disney-Hyperion for honest review.