A Darker Past (Darker Agency #2)
Jus Accardo
Pub: November 11, 2014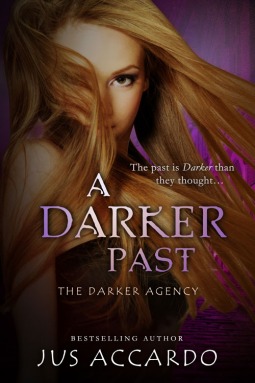 The past is Darker than they thought...
Between helping her mother with the Darker Agency and laying the smack down on monster baddies, Jessie Darker puts the "normal" in paranormal. But lately, things have gotten a little crazy...even for a smart-assed half-demon teenage girl.
For starters, Jessie's been contracted into fifty-five years of annoying servitude. To a demon. Then there's Lukas Scott, her sexy new boyfriend. Once the former incarnation of Wrath, he's been going through some...uh, changes. Like residual anger. And trading chaste hangouts for lusty make-out sessions.
But it's when Lukas and Jessie accidentally release a Very Nasty Demon that things get really bad, setting into motion a chain of death and mayhem that threatens both Earth and the Shadow Realm. Jessie has exactly four days to fix it...before all of Hell breaks loose.
First off, I'll admit I haven't read the first in this series, but I didn't let that deter me from diving right in. I loved Jessie's sarcasm, especially in the first quarter of the book. Her snarkiness seemed to fade a bit from there, but she occasionally graced me with something sassy to lift my mood. Her boyfriend Lukas is recovering from being Wrath's b*tch for way too long, forced there by his crazy ex, and is now under the tutelage of Jessie's Father in hell, but can go back and forth freely. Well, mostly freely like Jessie, who finds herself being sucked into hell every the demon she's now in servitude to decides to beckon her to his semi-creepy side to do a job for him.

While checking out something for her family's demon agency, Lukas' crazy ghost of an ex goes mental and ends up setting loose a demon that had been trapped. And since Jessie's family had a hand in putting him there, he unleashes his vengeance on every member of the Darker family and the ones they love. Who will survive his wrath before he can be trapped again?

A Darker Past started off strong and was a decent story, though it began to drag for me about half way through. I think that might've just been me though. I was enjoying Jessie's sarcastic thoughts so well, that when her sassiness began to fade a bit, it made the story come off a little more ho-hum for me. But I think most people who like this genre will be more than happy with Miss Accardo's world of demons. And romance lovers will be sated with the lustful-yet-still-respectful relationship between Jessie and Lukas, who find being similar in the fact that they're both demon-newbies just a little stressful on the ole love life.
3.5 Dreamcatchers. ARC provided by Entangled Teen for honest review.