Mr. Kiss and Tell
Rob Thomas and Jennifer Graham
Exp. Pub.: January 20, 2015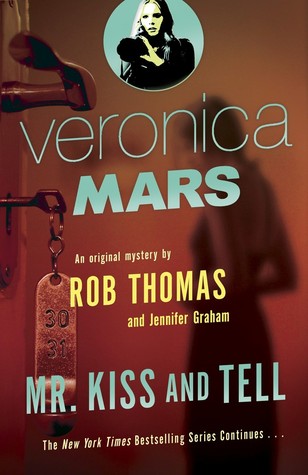 The Neptune Grand has always been the seaside town's ritziest hotel, despite the shady dealings and high-profile scandals that seem to follow its elite guests. When a woman claims that she was brutally assaulted in one of its rooms and left for dead by a staff member, the owners know that they have a potential powder keg on their hands. They turn to Veronica to disprove—or prove—the woman's story.
The case is a complicated mix of hard facts, mysterious occurrences, and uncooperative witnesses. The hotel refuses to turn over its reservation list and the victim won't divulge who she was meeting that night. Add in the facts that the attack happened months ago, the victim's memory is fuzzy, and there are holes in the hotel's surveillance system, and Veronica has a convoluted mess on her hands. As she works to fill in the missing pieces, it becomes clear that someone is lying—but who? And why?
Sassy detective Veronica Mars is back -
yay!
- along with the gang, plus Logan -
double yay!
- to find out what exactly happened to a young woman who was discovered badly beaten in a remote area. She vaguely remembers what happened, but since she deliberately took the route without cameras in the hotel, no one can be sure how she got from a random room to the field several miles away. As Veronica delves deeper and deeper into the investigation, she learns no one is who they seem, including the woman who was raped and left for dead. But even if Veronica can learn the truth, will the angry, anti-Mars, out-with-a-grudge sheriff be willing to do anything about it?
Sigh... Gotta love the sweetness between Veronica and Logan. Makes me really miss the show. Even though they both have careers the other wished they didn't, they suck it up and let it go, somehow finding a way to make it work. Keith is recovering from the attempt on his life, and determined more than ever to help Eli beat the wrap charge the sheriff's office tried to pin on him. And Mac and Wallace are still around to help their favorite gal pal. And though I loved the story, this particular book seemed to lack the Veronica Mars sass I've come to love, hence the doc in star rating. Still a good read if you're a fan of the series.
ARC provided by Vintage for honest review.