Unbreakable (The Legion #1)
Kami Garcia
Pub.: October 1, 2014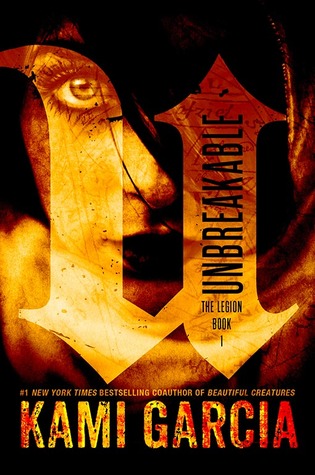 I never believed in ghosts. Until one tried to kill me.
When Kennedy Waters finds her mother dead, her world begins to unravel. She doesn't know that paranormal forces in a much darker world are the ones pulling the strings. Not until identical twins Jared and Lukas Lockhart break into Kennedy's room and destroy a dangerous spirit sent to kill her. The brothers reveal that her mother was part of an ancient secret society responsible for protecting the world from a vengeful demon — a society whose five members were all murdered on the same night.
Now Kennedy has to take her mother's place in the Legion if she wants to uncover the truth and stay alive. Along with new Legion members Priest and Alara, the teens race to find the only weapon that might be able to destroy the demon — battling the deadly spirits he controls every step of the way.
Life was normal and easy-going before Kennedy came home to find her mother dead. She thought it was natural causes until she awoke to find her possessed cat sucking the life out of her. And the only reason she survived? Because two brothers were close by keeping an eye on her, and when she screamed, they came running in to help. They claimed to be part of a legion of modern day ghostbusters, a group which the next successors are chosen by the five current members. When all five were killed by the minions of a demon named Andras, the brothers and two others were activated. And so was Kennedy, if she could believe their wild tale. Though not entirely convinced, having a poltergeist blow up your home is pretty good motivation to give their crazy story a chance.


Enter Alara and Priest, the other two members of Legion. Going through their predecessors journals, they learn of a weapon called the shift that could take Andras down, but it's been separated into several pieces and left in the possession of vengeance spirits. Following the clues left at each site, the members one by one kill a vengeance spirit using their specialty skill and earn their fifth of the Andras seal on their forearm. But once Kennedy fulfills her part, its not the seal she earns for killing the ghost and completing the weapon, but something none of them could see coming.

If you're looking for paranormal story that reads a lot like the hit show Supernatural, you'll probably be happy enough with this novel. There is the workings of a love triangle between Kennedy and the twins, but still pretty light on actual romance in this first installment. Unbreakable was a really fast read that'll keep your attention from beginning to end, so check it out if ghostbustin' tops your genre list.
ARC provided by Little, Bfor honest review.
Unmarked (The Legion #2)
Kami Garcia
Pub: October 1, 2014
He is here... and he could be anyone.
Kennedy Waters lives in a world where vengeance spirits kill, ghosts keep secrets, and a demon walks among us–a demon she accidentally set free.
Now Kennedy and the other Legion members–Alara, Priest, Lukas, and Jared–have to hunt him down. As they learn more about the history of the Legion and the Illuminati, Kennedy realizes that the greatest mystery of all does not belong to any secret order, but to her own family. With the clock ticking and the life of someone she loves hanging in the balance, Kennedy has to ask the question she fears most: what is it about her past that has left her Unmarked?
Kennedy Waters would love nothing more than to hide away and pretend she wasn't directly responsible for releasing a horrible demon from his entrapment, but unfortunately, no one will let her - including the other members of Legion and Andras himself, who continually kills girls who resemble Kennedy. The Legion is at least willing to share in the mistake, but Kennedy is stubborn to let go. All they can do moving forward is to figure out why she hasn't gotten her mark, so the Legion seeks out clues to Kennedy's family past.
Turns out her family lines clash - she's both Legion and Illuminati, and though she wants nothing more than to be Legion with her newfound friends, it's impossible to taint their line with Illuminati blood, so what's an Illuminati girl falling in love with a Legion boy to do? And to make things even more difficult, Andras has taken possession of someone who's become dear to her heart.

Unmarked was another quick read by Kami Garcia, but lacked a little in the action department compared to Unbreakable. It was good to get a better idea of where this series is going, but I didn't feel this installment was written in a way that resolved anything other than learning why Kennedy didn't get her mark, which happened long before the story ended. I don't know...this novel and it's direction was just weird for me.
ARC provided by Little, Brown for honest review.