Stitching Snow
R.C. Lewis
Pub.: October 14, 2014
TOMORROW!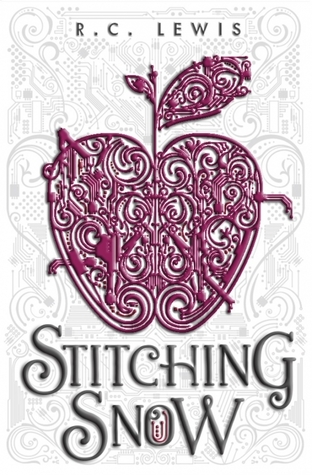 Princess Snow is missing.

Her home planet is filled with violence and corruption at the hands of King Matthias and his wife as they attempt to punish her captors. The king will stop at nothing to get his beloved daughter back—but that's assuming she wants to return at all.

Essie has grown used to being cold. Temperatures on the planet Thanda are always sub-zero, and she fills her days with coding and repairs for the seven loyal drones that run the local mines.

When a mysterious young man named Dane crash-lands near her home, Essie agrees to help the pilot repair his ship. But soon she realizes that Dane's arrival was far from accidental, and she's pulled into the heart of a war she's risked everything to avoid. With the galaxy's future—and her own—in jeopardy, Essie must choose who to trust in a fiery fight for survival.
Stitching Snow was a fresh take on the popular fairy tale that had a cool Star Wars kind of vibe to it. Essie (Princess Snow) has been in hiding the past eight years in a remote part of Thanda, a mining planet where only those in need of work ever travel. She's learned to survive by tinkering and stitching her own set of robots which are used to help keep the miners from going too deep into dangerous territory, and for extra money, Snow takes part in fighting matches with the men transitioning through.
Essie was good with this life. It was predictable, and in a way, safe. At least until a ship crashed nearby. With no mechanics nearby, it's up to Essie to stitch up Dane's ship to get him back in the sky. But he's not who he seems, which Essie figures out all too late, and she's forced to return to a dangerous world where everyone has a hidden agenda and the royals are only all too happy to pick up where they left off - needing Princess Snow dead.
Unique and engaging, Stitching Snow will keep you glued to the pages as Essie tries desperately to survive this messed up universe of greed and power, all while struggling with these romantic notions suddenly sprouting for the most unlikely suitor. And best part of all, it's a standalone so no pesky waiting period to see how it all unfolds.
ARC provided by Disney-Hyperion for honest review.