Before He Was Famous (Starstruck #1)
Becky Wicks
Pub.: May 25, 2014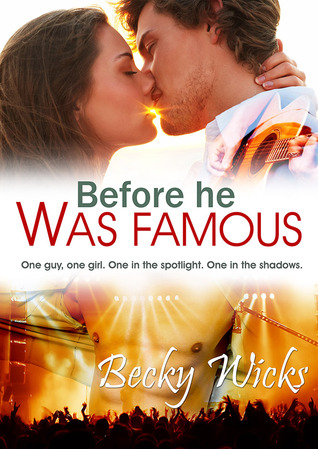 One guy, one girl. One in the spotlight. One in the shadows.

Falling in love with your best friend isn't always a great idea, especially when he's Noah Lockton - the sexiest, most famous new talent on the planet. When 21-year-old small-town photographer Chloe Campbell is offered the chance of a lifetime – to join her celebrity childhood friend Noah on tour as an exclusive blogger for a New York magazine – she's certain both have put what happened four years ago behind them. But his eyes still burn; his voice is still a jackhammer to her heartstrings; all his songs are about her. Is it possible that that night still haunts them both?

The music industry is a machine, spinning hype and rumors as much as his records. It's not just Noah's girlfriends who've got it in for Chloe (there's no stopping the Twitter-obsessed, cat-loving pop-star Courtney Lentini for starters). Pretty soon, the jealousy and media frenzy surrounding these so-called-friends takes a life-changing turn and it seems making love means making enemies at every turn. When tragedy threatens to pull the final curtain on their relationship, both Chloe and Noah must make a choice. As much as this world leaves them starstruck, is living their dream really worth living without each other?
Two people friends since childhood, both in the love with the other but not wanting to ruin the relationship already established, only to be silently miserable watching the other take on different lovers as their relationship statuses never seem to hit single at the same time.
Chloe finds herself caught up in the limelight of Noah's new life. The latest winner on a reality singing show, he's off to start recording and touring from the get-go. But he wants his best friend to move to New York with him, and urges her to apply for a job with a magazine to be a photographer. Of course she lets it slip during her interview that she's besties with the suddenly famous Noah Lockton, and the magazine is drooling to use her to scoop the other magazines. So much that Chloe runs a daily blog on the life of Noah Lockton, as she follows him every where he goes. But not only is she forced to watch the guy she loves in a relationship with the runner-up, she herself gets pulled into the public drama and begins to get some nasty death threats being the one true thing Noah Lockton wants in life.
I will say that I liked the romance grow between the two, as it seemed heartfelt and natural, but I think two friends who knew each other so well should've been able to see through the crap that was happening between and around them. For me, this was just an okay novel, as it lacked originality in the new adult market these days. But all in all, it was still a sweet read that I breezed through in a single night, so don't let that deter you from checking it out for yourself.
Novel provided by author for honest review.