The Rules for Breaking (The Rules for Disappearing #2)
Ashley Elston
Exp. Pub.: May 20, 2014
TODAY!!!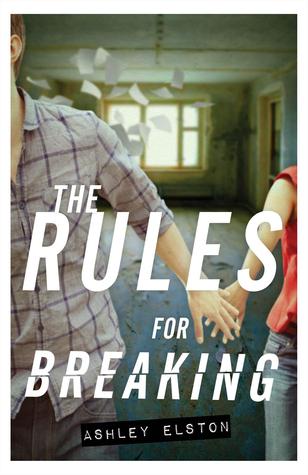 Anna Boyd almost lost her life to get what she wanted most in the world: freedom.

But just when it seems that her family has finally escaped Witness Protection, the illusion that Anna could resume a normal life comes crashing down.

The deadly man Anna knows as Thomas is still on the loose, and now he's using her as a pawn in a dangerous game with the drug cartel determined to silence her forever. When Thomas and a mysterious masked man capture not only Anna but also her fragile younger sister and her boyfriend, Anna decides it's time to break all the rules-even if it means teaming up with the lesser of two evils.

Anna will do whatever it takes to protect the people she loves and win her life back once and for all. But her true enemies are hidden in plain sight. Before long, Anna will learn that putting her trust in anyone may be the last mistake she ever makes.
Anna is finally getting her life back together. Problem is, she hasn't been that honest. The journal that was stolen from her made its way back with a note and flowers. Thomas, the assassin who pretended to be one of her witness protection handlers, is still out there. When her journal is discovered by others, its back to semi-witness protection until they can figure out what Thomas' interest in Anna is. But its not long before their new location is jeopardized and both Anna and Ethan are kidnapped, along with Teeny as she happens by at the worst possible moment. Why the abduction? Thomas allowed Anna to live the first time, so there's a price on his and Ethan's heads now too. Being his bait in a deadly game between assassins is bad enough, but when Anna discovers who the guy is who's helping Thomas keep them prisoner, it's absolutely devastating.
I actually felt this was better than the first novel. In
The Rules for Disappearing
, I felt it was a little unbelievable that a teenage girl would throw herself into the thick of assassins and cartels and come out the victor, but in
The Rules for Breaking
, the action seems to find Anna and her goal switches to survival, so the story comes off way more believable. Lots of action, chills and perilous thrills keep you glued to your seat and the pages flipping as they desperately try to escape their captors. So if you liked the first, you'll probably the love this follow-up. Pick it up!
ARC provided by Disney Hyperion for honest review.