Anomaly (Schrodinger's Consortium #1)
Tonya Kuper
Pub.: Nov 25, 2014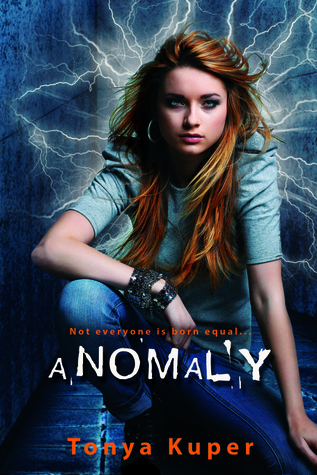 Reality is only an illusion.
Except for those who can control it…

Worst. Birthday. Ever.

My first boyfriend dumped me – happy birthday, Josie!- my dad is who knows where, I have some weird virus that makes me want to hurl, and now my ex is licking another girl's tonsils. Oh, and I'm officially the same age as my brother was when he died. Yeah, today is about as fun-filled as the swamps of Dagobah. But then weird things start happening…

Like I make something materialize just by thinking about it.

When hot badass Reid Wentworth shows up on a motorcycle, everything changes. Like, everything. Who I am. My family. What really happened to my brother. Existence. I am Oculi, and I have the ability to change reality with my thoughts. Now Reid, in all his hotness, is charged with guiding and protecting me as I begin learning how to bend reality. And he's the only thing standing between me and the secret organization that wants me dead…
Hmm.
Anomaly
was just okay for me; didn't love it, didn't hate it. I will say that I enjoyed the geekiness of Josie and the way she could refer to stories like Star Wars and Thor and compare them to the new version of her everyday life. I also liked that her superpower involved pushing and retracting objects in and out of existence. Definitely a cool ability to have. But the storyline of girl with new abilities training and falling for her hot new trainer has become a bit of a bore for me - I've read it too many times already, so it made the story really drag on until the last fifteen percent. She just spent way too much of this novel learning how to push things into reality. I prefer to read about spontaneous conflict, not the manufactured kind to teach a new skill.
Give it a go if you like, and so long as you don't go in expecting to be blown away, you'll probably be content enough with Anomaly. 2.5 Dreamcatchers.
ARC provided by Entangled Publishing for honest review.